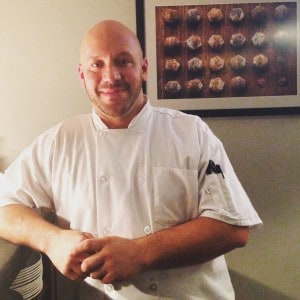 FOR IMMEDIATE RELEASE
CONTACT: Aaron Deal, Executive Chef or Devon Steiner, Manager • 540-400-6830 • aaron@riverandrailrestaurant.com
Executive Chef Aaron Deal and the River and Rail Family welcomes New Sous Chef Roanoke, VA (October 15, 2015) — The River and Rail Restaurant in Roanoke, Virginia is pleased to announce the appointment of John Diaz as Sous Chef. Diaz is a nationally respected, innovative chef with over of ten years of culinary experience in the best, most innovative kitchens in Washington, D.C.
Originally from Northern Virginia, Diaz served as Sous Chef to Chef Michel Richard in Washington's famous Citronelle, Tracy O'Grady's Willow Restaurant in Arlington, Va. and Bob Kinkaid's Colvin Run Tavern.
A graduate of the L'Academie de Cuisine in Gaithersburg, MD., Chef Diaz is excited to call Roanoke his new home.
Chef Deal is thrilled to have Chef Diaz on the team and grateful for the energy and creativity he brings to the kitchen. His experience and passion for local and seasonal cooking will enhance the experience for our regulars, as well as new patrons.
The River and Rail is a nationally recognized and award winning southern bistro in the heart of South Roanoke, near Carillon Roanoke Memorial Hospital.
In 2015, The River and Rail was voted top 100 Southern Restaurants by Southern Living Magazine, and 10Best Southern Fine Dining Restaurants in the South by USA Today.
For more information, call River and Rail Restaurant at (540) 400-6830 / or visit our new website www.riverandrailrestaurant.com.