EXECUTIVE CHEF/GENERAL MANAGER – AARON DEAL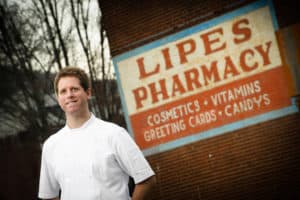 A native of North Carolina, Deal completed his formal culinary training at Johnson & Wales University in Charleston, SC, graduating summa cum laude in 2005. His first Executive Chef role came at the helm of Tristan Restaurant in Charleston, SC where he earned a 2009 James Beard Foundation Rising Star Chef nomination amidst local praise. In 2009, Deal assumed the role of Executive Chef of Custom House Tavern
in Chicago, IL. He earned many accolades during his time at Custom House, including being named a "Best New Chef Under 30" by Chicago Social magazine and one of Restaurant-Hospitality magazine's "12 to watch in 2012." After stints at Town House Restaurant in Chilhowie, VA and Cragie on Main in Cambridge, MA, Deal ventured to Roanoke, VA to open The River and Rail in 2012. In his role as Executive Chef, Deal developed the culinary program for the restaurant from the ground up, creating regional cuisine inspired by the Virginia countryside. Outside of the kitchen, Deal has made appearances on The CBS Early Show's "Chef on a Shoestring," The Food Network, and as a culinary demonstrator, Deal has traveled to Johnson & Wales, The French Culinary Institute and the Culinary Institute of America, to lead discussions on sustainable food culture and cooking techniques. "Having recently celebrated our five-year anniversary at The River and Rail, I am extremely grateful for the opportunity to continue exploring the kind of cooking that excites and inspires me as a chef," Deal says. "I'm also proud to share a distinctive regional cuisine that not many people outside Virginia have had the opportunity to sample."
---
CHEF DE CUISINE – JOHN DIAZ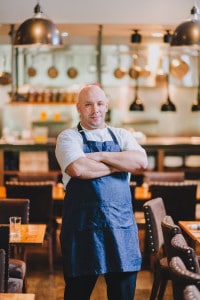 John Diaz brings an authentic passion for cooking, and an acute creativity marked by decades of experience. As Chef de Cuisine of The River and Rail, where he works alongside Executive Chef Aaron Deal, John creates regionally inspired dishes with local, seasonal ingredients. A native of Vienna, VA, Diaz realized his passion for cooking at the age of 12, inspired by his mother's love of the kitchen. He later studied at L'Academie de Cuisine in Gaithersburg, MD before embarking on his first job in the hospitality industry a line cook at Bob Kinkead's Colvin Run Tavern in Tysons, VA. In 2007, he accepted a position as Sous Chef at Willow Restaurant in Arlington, VA, where he worked under Chef Tracy O' Grady, whom he credits as a mentor and a great influence on his career as a chef.  From here, Diaz joined the team at Citronelle in Washington, DC, as the Private Dining Chef/Sous Chef  where he created playful takes on classic French cuisine under the late Chef Michel Richard. After, Diaz relocated to Roanoke, VA and soon thereafter met Chef Aaron Deal, who offered him a position as Sous Chef at The River and Rail. After only a year executing his southern bistro-style cooking, he was promoted to Chef de Cuisine, overseeing the daily changing menu, incorporating fresh herbs and local seafood into signature dishes like Blue Crab pasta. When he's not in the kitchen, Diaz enjoys spending time with friends while manning the barbeque.
---
BAR MANAGER – SHANE LUMPP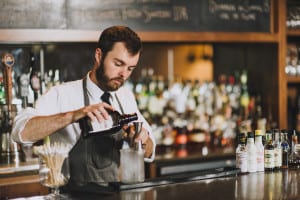 Shane Lumpp is The River and Rail's Bar Manager, overseeing the beverage program and a team of skilled bar professionals at the Roanoke, VA restaurant. Born and raised in Southwest Virginia, Shane began his career in the beverage industry at Ocean House Seafood Restaurant in Virginia Beach. It was there that he learned the proper skills to create classic cocktails and developed the insight to produce innovative ideas behind the bar. He later went to work as the lead bartender at Metro in Roanoke, before joining the opening team at 1906 Alehouse. His first bar manager position came when he received an offer to work at Twist Martini & Associates in Virginia Beach. The large-scale and high-volume service provided Shane with a welcomed challenge, and he led his team to produce record sales.  In 2015, Shane received an Advanced Bartending Certificate from the Bar Smarts organization in Charleston, SC. A year later he relocated to Roanoke, and began working at The River and Rail, where he brought his hands-on management style to the restaurant, leading his team by example while inspiring a sense of cooperative teamwork. When he's not behind the bar, Shane enjoys golfing, camping and fishing.
---
SOUS CHEF – TYLER THOMAS
As Sous Chef of The River and Rail, Tyler Thomas brings a traditional southern sensibility to the seasonally-focused menu. Born and raised in North Garden, VA, Thomas developed an appreciation for cooking at a young age, learning about the importance of fresh local produce and poultry from a long line of talented cooks in his family. Foregoing formal training, Thomas began his culinary career at 17, honing his skills by working under a series of passionate chefs like Michael McCarthy of Dr. Ho's Kitchen. It's here that he would earn his first job in the hospitality industry as a dishwasher, later working his way up to a line cook then Chef Manager. At Dr. Ho's Kitchen, he learned the importance of facing challenges head on to become a well-rounded cook. In 2013, Thomas joined the team at Chef Ted's Catering in Charlottesville, VA, where he worked before taking the opportunity to cultivate his butchering skills at the nearby JM Stock Provisions, a whole-animal butcher shop. In 2015, he accepted a position at Zocalo as XX, where he worked closely with the owners to create a unique dining experience in the heart of downtown Charlottesville. In 2016, Thomas moved to Roanoke, VA to pursue his dream of working at The River and Rail. Beginning as a line cook, he eagerly worked his way up to a position as Sous Chef, where he's grateful for the opportunity to work with some of the country's best farms and their bounty of indigenous vegetables, flowers and meats in the Appalachian Valley. When he's not at The River and Rail, working with his favorite seasonal fruits and vegetables, he can be found in his home kitchen, enjoying good food in the company of his family and friends.